If you 'like' us, we'll LOVE you!
PHOTO: GETTY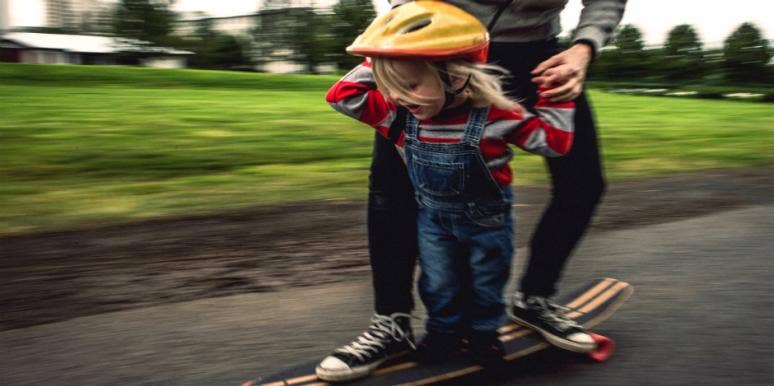 Every divorced mom goes through this.
Being a single mom, you want to be happy and provide a safe home but usually, don't know how to keep yourself feeling positive. You don't really believe you will be happy and don't know how to deal with providing for everything you know you need for your kids.
The hardest part about being a single mom is knowing that hope and dreams are possible even in the face of tremendous fear. And the way to deal with that part is to surround yourself with those who feel the same way. Your community — including your children — are the seeds of possibility.
Leaving a marriage, there's always this combination of fear and excitement —  whether you wanted out or not.
---
RELATED: 13 Reasons To Be Jealous (Yes, Jealous!) Of Single Moms
---
Both are valid — the dreams pull you out of marriage, the fears keep you from falling fast. Most women just want to be happy and be able to provide a safe home. They want to rush to the end of the story.
But they don't know how to keep themselves feeling positive. They don't believe they'll be truly happy with all of the stress. They don't know how to provide financially for themselves way too often, and they're worried about their kids.
For many single moms, those dreams usually include (fingers crossed) a new home filled with hope, joy, even happiness if possible. Maybe a new lover. A place for dreams to come true. However, in the beginning, chaos and confusion typically reign as a single mom does her very best to set up a new home for her children.
The familiar rules which kept two adults parenting together fall away in the face of just kids and mom. There's this intense sense of not knowing what's going on or what to do first. One of the hardest parts of being a single mom is believing that you've got this in midst of the fear, that you and your children will manage, figure things out, and even thrive.
Chaos and confusion are at the root of what it takes to create a home filled with hope and dreams. You cannot create possibility out of a broken framework.
A marriage between a mother and father that didn't hold together is a broken framework. So at first, you will feel as if everything is falling apart and you don't know what you're doing. And you don't. Actually, you can't. Your kids don't know what to expect and neither do you.
Happiness and joy can come out of that chaos.
Without it, you can't begin to create your new home. Your new home is built on top of this new family structure, and together you and your children, are the ones who have to make it work. And that's never easy.
To believe in possibility, new dreams, even new love requires accepting how to deal with this part of separation. You will be in chaos and confusion until you accept and deal with recreating your rules, boundaries, and self-discipline in the face of pain, upset, expenses, and single-parenting. The moment is difficult and I wish I could tell you differently.
Those who set up any other unrealistic expectations in their new household — any sort of perfection really — like some super strict "family rule" guidelines, are setting themselves up for denial and dysfunction.
No one goes through a divorce without having to deal with a broken heart. Not adults. Not children. And perfection or guidelines requiring 100 percent compliance without compassion fall short of dealing.
Surrounding yourself with people who not only grasp this reality but also support your efforts to deal with it is paramount. You cannot do it alone. You also cannot do it the way you used to when you were married and supposedly in a good place.
That looks like leaning into new friends, finding a new community filled with compassion instead of judgment, and being with those who understand what you're up against.
---
RELATED: How To Be Happy As A Single Mom In 9 (Relatively) Easy Steps
---
Creating hope out of a broken heart is the stuff dreams are made of.
Because creating hope and possibility out of the old set of rules, listening to the old criticism and being immersed in self-incrimination, judgment or despair doesn't work.
To develop emotional resilience and hope means that you have to take a step away from your past and surround yourself with faith in possibility. No matter what you may be thinking, this kind of faith demands acceptance and compassion.
Forgiveness even. It has more to do with a bigger perspective, filled with the possibility that it has to do with hanging onto what you've known or are used to from the past.
This takes faith and courage and so much more. It's saying "no" to answering every single text 24/7 no matter how difficult it is to resist. It's about letting a few things slide (in my home, kids aren't required to make their beds anymore).
It's about a no-lying policy at my house. It's about deleting those who are critical of me and my parenting style from my contact list no matter how many memories we once shared.
It was about allowing myself to change how I parent as a single mom instead of taking on a more limiting set of rules and guidelines. In fact, it was all about opening up to possibilities — a bigger perspective.
In the chaos and confusion inherent in the lifestyle shift, you may be unsure of how to do these things despite trying your hardest. That's where finding a new community becomes mandatory.
Honestly, I would not be where I am today without my new support structure. I'm not saying to get rid of those who are your champions. However, I am saying, quite emphatically, in fact, to find a new group to help you on your way to your life filled with dreams.
In order to find a new support structure, you need to step into faith. And, it takes courage to do just that.
As you start your new lifestyle as a single mom, you'll most likely pull in. You'll be ashamed, scared, and unsure, even though you're doing your best. But trusting others is the furthest thing from your mind.
I totally get that! The hardest part of being a single mom is to believe you're worthy of a new group of positive, kind, and compassionate people. When you look for them though, they may be hard to see.
I had to look a long time. Unfortunately, it took a while, filled with trial and error, to find my new community. I thought it looked like my old life, my old kind of friends, my old type of lovers.
Boy, was I wrong!
Look for a new support structure. 
Surrounding yourself with compassionate, supportive, action-oriented, that kind of kick in your butt with love sort of support doesn't come naturally when you're feeling alone and isolated in chaos and confusion. It takes some work. So don't give up!
Try not to confuse that effort with falling in love or getting that promotion at work. Or evengetting away from that other parent, however much that is driving you.
Those steps are a part of the overall healing but not the kind of support that will help you develop true faith and courage in yourself as a single mom. In some ways, those steps are like candy. Or they're the sprinkles on the frosting, not the ingredients of a dream life.
Only those who have been where you are will know that. At first, it's easy to get confused by distractions.
At first, the hardest part about being a single mom is going to be the self-discipline to find a part of you willing and able to shift.
To realize that even with all the work you've done being a single mom (and I know you've done a ton of work already) there's still room for more. And you're worthy of opening up to it. You're even worthy of having your dreams made possible. And you're especially worthy of happiness and love.
---
RELATED: How To Deal With The 3 Biggest Struggles Of Being A Single Mom
---
Laura Bonarrigo is a Certified Life Coach and a Certified Divorce Coach. She is a writer, public speaker, and the founder of doingDivorce School, an online coaching program for those ready to shed the pain of divorce. For empowering and practical ways to lose the identity of your past, visither website.