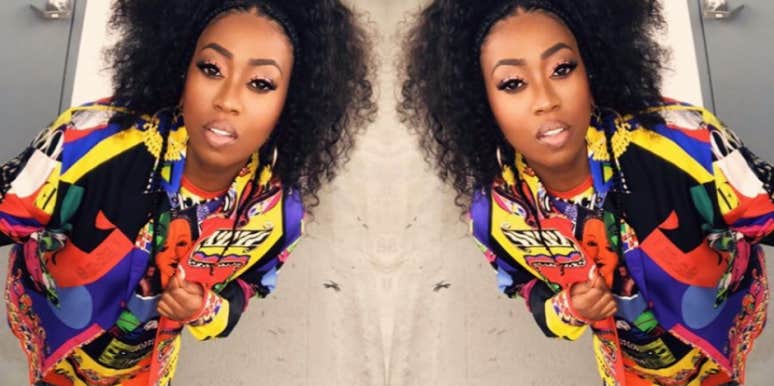 Missy Elliott shared weight loss secrets on Instagram and she looks fabulous.
Missy Elliott before and after! Listen: Missy Elliot has never NOT looked good. The hip-hop artist has always had style and never looks less than totally on-point. From her nails to her hats, she is a true rap style icon in her own right.
But earlier this week she drew everyone's attention when she posted a few Missy Elliot weight loss photos on Instagram looking not only fierce but also fit and glowing. She explained in the comments that she's made some changes to the way she eats and the switch has paid off.
---
RELATED: New Disturbing Details About How Chris Brown Allegedly Locked Women In His House And Assaulted Them
---
In the caption she writes: "Proudly to say it's been 4 months I have only drank water no other juices or soda & I cut out bread & Lord knows that's been the hardest for me! See I've NEVER been a water drinker but this have helped my skin it really restore glow back & I don't feel sluggish NOW the other thing if I can only cut out JUNK FOOD shit that's my weakness #Facts But if I can give up those other things I'll fight that to! Maybe two cupcakes a month."
The singer was diagnosed with a thyroid disorder called Graves Disease in 2008, according toPeople. She underwent treatment for is as well as managing it through diet and exercise.  Whatever she's doing, it must be working, because she looks — and sounds — amazing these days.
---
RELATED: New Details On Teairra Mari's Sex Tape And Instagram Hack
---
1. Way back.
In this 2011 interview with People, Elliott talked about her Graves disease diagnosis and the symptoms that led her to seek treatment. The photo in People shows her in one of her signature tracksuits, looking great after several years of working with doctors and specialists for manage the condition.
2. 2014.
In 2014, she hit the stage at after a 30 pound weight loss. Fans were psyched to see the slimmed -down star bust out hits like "Get UR Freak On" in New York City.
Just got off stage thanks @ALEXANDERWANGNY and @hmusa for having me perform I enjoyed
3. Insta star.
If you check out her Instagram account today, you'll see that the star is still rocking her signature style, complete with gym bod and glowing skin. Check her out paying tribute to Diana Ross with a blinged-out sweatshirt.
4. She hands out motivation.
In this Insta video she gives great advice while rockin' a pair of spectacular hoop earrings and Gucci threads.
5. OMG her DOG.
Yeah, yeah, Missy rocks a look for sure but OMG have you seen her little yorkie? That is one dope pooch.
---
RELATED: New Details About How Jennifer Garner and Lindsay Shookus Have Teamed Up To 'Control' Ben Affleck
---
6.  She speaks her truth.
She posted this pic where she embodies glam and talks about her journey making music in an industry that expects a certain look, saying "I never LOOKED the part I was always DIFFERENT my STYLE & SOUND which took many more than one listen to understand me but I didn't know how to be any1 but MYSELF & here I am a walking TESTIMONY 4 those who been told it won't work I say KEEP DOING YOU."
7. She throws it back for a friend.
This tribute to the late music star Aaliyah's birthday is a poignant memory of a talent gone too soon and a trip down Missy memory lane. Missy says "we MISS YOU so much!but I know you are surrounded by ANGELS and yall dancing doing a Dope routine a sick 8 count for your BDAY."
8. Her eyelash game is insane.
She drops more solid advice in this tweet but her lashes are the real #goals here.
Sending GREAT ENERGY to anybody who may been going through it or just had a rough day here is some LOVE & LIGHT/ PEACE & HUGS 2 ALL OF YOU& I don't have 2 know you personally 2 share that with u because we all are HUMAN & need a lil ENCOURAGEMENT have a STRESSFREE weekend
9.  OK, one more of her dogs because they're too cute.
I mean, look at these matching outfits.
So I have 2 fur babies Hoodie is 12 & Ms FENDI Dior is 3 months & clearly she think she a hairstylist she do 360 frontals 27 pieces & box braids look she trying to fix Hoodie hair & as u can see HE IS OVER IT he mad they dressed alike I love them
10. "Git from under my comments."
Missy knows how to treat online haters.
MIssy has a new single out and the star not only looks great, but sounds fantastic. She is one icon that bring substance as well as style.
Rebekah Kuschmider is a DC area writer with a background in non-profit management and advocacy Her work has been seen at Ravishly, Babble, Scary Mommy, The Mid, Redbook online, and The Broad Side. She is the creator of the blog Stay at Home Pundit and is a contributor the book Love Her, Love Her Not: The Hillary Paradox . She is a cohost of the weekly political podcast The More Perfect Union.