'The suffering is strong', says Wenger after Europa League exit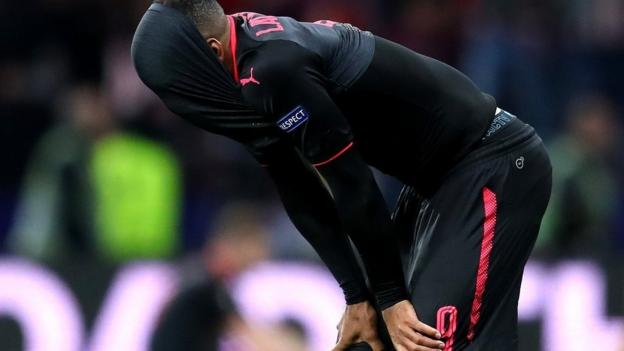 Arsene Wenger said Arsenal's "suffering is strong" after their hopes of reaching the Europa League final were dashed by a 2-1 aggregate defeat against Atletico Madrid.
Diego Costa scored the only goal of the second leg to take Atletico through to their third final in eight years.
Wenger will not lift a European trophy with Arsenal with his tenure as manager coming to an end this season.
"It can be very cruel, I am very sad tonight," said the Frenchman.
Arsenal missed a number of chances to equalise in Madrid but were denied through a combination of good defending and poor end product.
They dominated the first leg but allowed 10-man Atletico to equalise with eight minutes to spare, handing the Spaniards an away goal advantage.
The Gunners will now miss out on Champions League football next season.
"We didn't manage the important moments of either game well," said Wenger.
"We were 1-0 up with 10 minutes to go at home, and then we conceded a stupid goal. Tonight we looked OK and then conceded on the counter attack.
"Atletico played with fear in the first half that if we score they could be out, but once they scored they played with a cushion."
Wenger also said the tie "should be over" after the first leg and that his side "missed something in the final third".
"When you go out of a competition and you have the performances we have had over 180 minutes it is hard to take.
"There are some good ingredients in our team. They will bounce back."
Arsenal defender Hector Bellerin said the result was "hard to take" because they "played with our heart".
"It was not meant to be," said the Spaniard. "We wanted to do it for the boss and to try for him to finish on the top. That adds more disappointment."
Ozil 'not fit to wear the shirt'
Former Arsenal defender Martin Keown, who won three league titles under Wenger, said midfielder Mesut Ozil "was not fit to wear the shirt" and was highly critical of his performance in Madrid.
"I bet he doesn't play again this season," Keown told BT Sport. "He will have some emotional breakdown and won't be able to play at the weekend. I don't know how many illnesses he has had this season but the fella is not kidding me.
"That is not a proper performance. He isn't giving everything and there is a lot more under the bonnet.
"We expect better from him. He is a World Cup winner and these are crocodile tears I am seeing from him and he is not conning me."
Wenger said he "does not agree" with Keown's comments about Ozil's display and insisted the midfielder "gave a lot".
He added: "We lose as a team. When you want to be listened to now you have to be extreme and football is more complex than that."
Soccer News
via BBC Sport – Football https://ift.tt/OHg7x6
May 3, 2018 at 04:03PM