Klay Thompson Says Pelicans' Fast Pace Was 'Tiring' During Warriors' Game 1 Win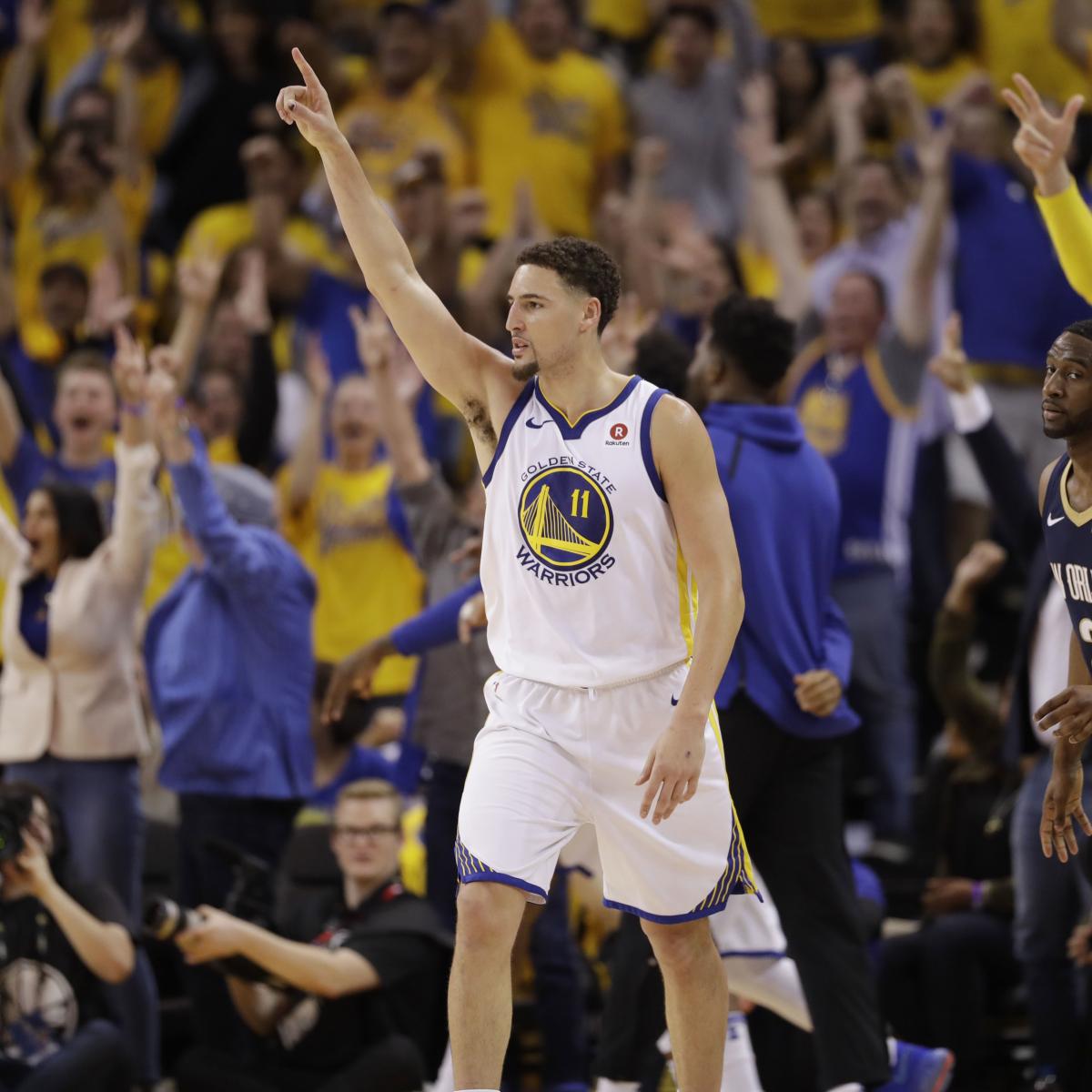 Marcio Jose Sanchez/Associated Press
The Golden State Warriors ran the New Orleans Pelicans off their home floor in Saturday night's 123-101 victory in Game 1 of their second-round series.
That doesn't mean all that running wasn't a little tiresome.
"Man, it was tiring," Klay Thompson told reporters after scoring a game-high 27 points. "The Spurs, they are a little older, so they play a little more methodical. They try to beat us up in the half court and low block. This team is kind of like playing ourselves. It's like, you make a bucket, you can't relax. You have to sprint back, find a shooter and they are pushing the tempo. It's a whole different ballgame."
Saturday's game was played at a pace of roughly 106 possessions, which is three possessions more than New Orleans' regular-season-leading rate, perNBA.com. The Pels' ran at a 102.7 possession pace during the regular season, a number that ticked up even higher after DeMarcus Cousins' season-ending Achilles injury.
San Antonio, the Warriors' first-round opponent, had the second-slowest pace in 2017-18. The Warriors ranked fifth in pace.
"Klay looked at me on the bench and said, 'Man, Draymond, I got more tired tonight than I did in any game against the Spurs,'" Draymond Green said after the game. "That kind of sums it up. It's a completely different tempo. They are really pushing the ball, like he said, and nonetheless, as long as we are getting back into transition and not giving up easy stuff, I think that plays into our hands."
The Warriors certainly didn't seem the mind the pace from a scoring perspective, as Thompson's 27 points were aided by a 26-point, 13-rebound effort from Kevin Durant and a triple double (16 points, 15 rebounds, 11 assists) from Green.
Breaking Sports News
via Bleacher Report – Front Pagehttps://ift.tt/yO6Sgr
April 29, 2018 at 08:10AM