Twitter Reacts to Arsene Wenger Departure Announcement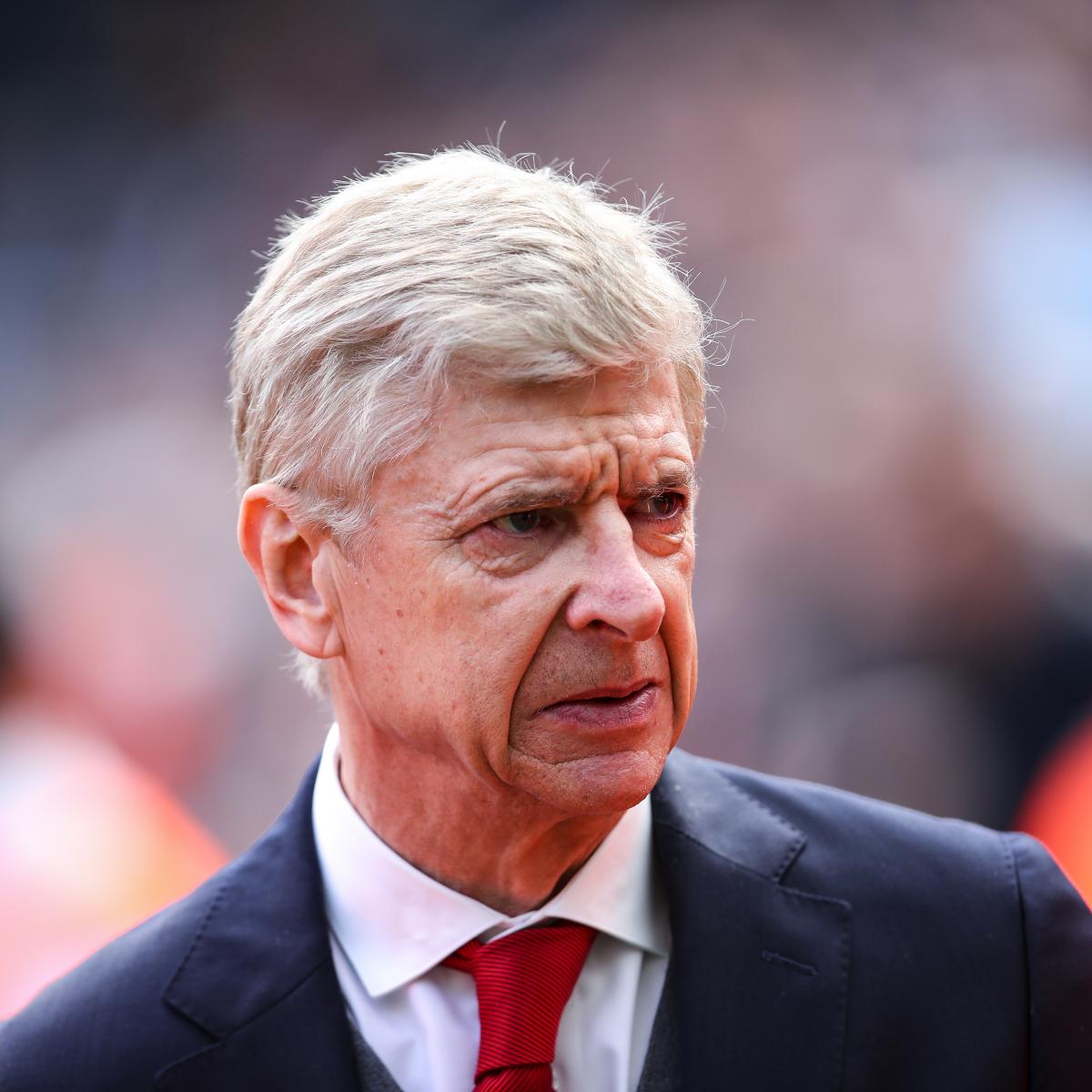 Robbie Jay Barratt – AMA/Getty Images
Arsenal dropped a bombshell on Twitter on Friday morning.
An article headlined "Merci, Arsene" hinted as to its contents and it confirmed that manager Arsene Wenger will step down at the end of the 2017-18 season after nearly 22 years in charge at the club:
Comments from the Frenchman included gratitude to the club and a message for Gunners fans: "To all the Arsenal lovers take care of the values of the club. My love and support for ever."
The 68-year-old will leave his post with a year still remaining on his contract, and, as a result, the announcement came as a shock to many:
Jack Whitehall @jackwhitehall

Wexit is actually happening! What the hell!? #Wenger
Jay bothroyd @jaybothroyd

Arsene Wenger resigning at the end of the season😳!! I didn't see that coming. Arsene has been transcendent for @Arsenal and for the English game. He is a great person and great manager who has achieved great things. @PSG_English next! Good luck boss 👍🏽
#forevergreat
MR DT © @MrDtAFC

I'm glad I am in hospital because I've just fallen over, is this actually real? Is Arsene actually leaving at the end of the season?
Charles Watts @charles_watts

Arsene Wenger, the man who gave us two doubles, the Invincibles, winning the league at WHL, Thierry Henry, Patrick Vieira, Robert Pires. This is 100 per cent the right decision for him and for Arsenal, but it still leaves me feeling a bit numb. Thank you Arsene. https://t.co/CI2XuFc7pf
The Wall Street Journal's Joshua Robinson shed some light on how Wenger came to the decision:
Joshua Robinson @JoshRobinson23

Wenger made the decision this week, under pressure from the board who told him they wanted him out this summer despite the year remaining on his contract. Rather than be fired, Wenger said he preferred to go out on his own terms. https://t.co/nZ52ZS7Plc
He will depart the Emirates Stadium as a three-time Premier League champion and seven-time FA Cup winner.
Wenger also still has the chance to bow out on a high by claiming his first-ever European trophy, as Arsenal are still in the UEFA Europa League and face Atletico Madrid in the semi-finals.
Despite Wenger's Arsenal having struggled in the second half of his tenure—they last won the Premier League in 2004—the reaction to the announcement was largely positive.
Many, including Samuel Luckhurst of the Manchester Evening News and the Guardian's Sachin Nakrani, acknowledged the huge impact he had on the English game from his appointment in 1996:
Samuel Luckhurst @samuelluckhurst

Arsene Wenger did wonders for Arsenal in his first eight years and has left an indelible mark on English football. Genuinely revolutionised players' approach. Failure to retain the league and underachievement in Europe meant greatness was always beyond him.
Sachin Nakrani @SachinNakrani

Definitely time for Arsene Wenger to leave but his achievements in the first half of his time at Arsenal should never, ever be forgotten. A true pioneer, made football in the in this country that more thrilling and beautiful to watch.
Ben Dirs @bendirs1

Arsene Wenger will ultimately go down as a game-changer, a manager who changed the English game, throughout the leagues.
Former Manchester United defender Gary Neville outlined his experience of playing against Wenger's best teams:
Gary Neville @GNev2

Arsene Wenger built the best teams that I played against in English Football .The 98 team was Amazing.The biggest compliment is that he played football that made us change the way we played against them. He now deserves the most incredible send off from all in the coming weeks.
Others expressed their admiration for a man who has been part of the Premier League furniture for over two decades:
James McLynn @mclynnjames

Unpopular opinion that's all of a sudden relevant: I adore Arsene Wenger and we as football fans never deserved him.
Matt Zarb-Cousin @mattzarb

Don't think I could respect Arsene Wenger more. Unless Arsenal get awarded a penalty before the end of the season and he brings himself on to take it
Duncan Alexander of Opta provided some statistical context for Wenger's time at Arsenal:
Duncan Alexander @oilysailor

Premier League wins:
Arsene Wenger: 473
Tottenham: 420
Duncan Alexander @oilysailor

Arsene Wenger has won 3.9% of all the league titles and FA Cups in English football history

"has he won enough though?"
As noted by BBC Sport's Simon Stone, there is recent precedent for a departure of this magnitude given it was only five years ago that Sir Alex Ferguson called it a day at Manchester United:
Simon Stone @sistoney67

As was the case at Man Utd in 2013, decisions now have to be considered @Arsenal that have never been thought about before. Club not at top of game like Utd, so significant difference re potential improvement but no guarantees a new name on the manager's door will be a better one
Unsurprisingly, suggestions of all kinds flooded in for who should fill Wenger's shoes in the Arsenal dugout:
Janusz Michallik @JanuszMichallik

Patrick Vieira should be the only target for Arsenal.
William Hill Betting @WilliamHill

Next Arsenal Manager:
7/2 Low
7/2 Tuchel
7/1 Ancelotti
8/1 Rodgers
10 Arteta
10 Jardim
16 Simeone
16 Allegri
20 Vieira
20 Enrique
20 Howe
20 Sampaoli
20 Martinez
20 Bergkamp
25 Henry
25 Bould
33 Mancini
33 Benitez
33 Blanc
40 Deschamps
50 Mourinho
More > https://t.co/zxsSgVlutu https://t.co/M4OXkhKR5I
Wenger has five Premier League games left to oversee as Arsenal manager, the first of which is a home clash against West Ham United on Sunday.
His relationship with many Gunners fans has soured in recent years as Arsenal have slipped down the domestic and European pecking order.
But he will surely receive a rapturous and grateful farewell from the Emirates faithful as he calls time on a remarkable tenure in north London.
Breaking Sports News
via Bleacher Report – Front Page https://ift.tt/yO6Sgr
April 20, 2018 at 03:14AM